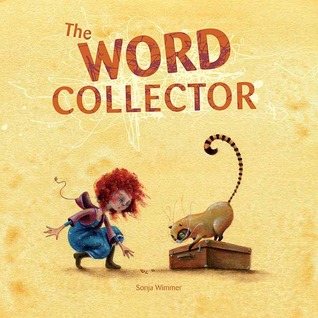 Why I Picked It Up:
It's called the word collector.  How could I resist this book?  While browsing books online, this one caught my eye because of the title.  Then I found myself sucked in to the cover, which is simple, but makes it impossible to not become engrossed.  As a reader, the scribbling behind the title made me start asking questions.  As a teacher it made me think about how my students scribble favorite words into their journals for later.  There's a girl who is carefully picking up letters and a cat guarding a suitcase.  Again, so many questions.  Is she literally keeping words in the suitcase?  Will she travel to many lands with her collection? What will she do with the words she's collecting?
Why I Finished It:
You have to work at this one!  It's impossible to be a passive reader, you must attend to each page with interest and energy.  The words flow throughout the page in multiple directions, at times the words have a scrapbook feel, the font and size change from word to word.  For many of us traditionalists, this would be a turn off, but it's not.  The pictures, the message, and the words are so captivating, you don't even realize the energy your expending in order to read.  "Luna collected words just like other people collected stamps: funny words, that tickle your palate when you say them, words so beautiful that they make you cry, friendly words that embrace your soul."  Luna collects words, because they're disappearing due to inactivity.  She must collect the words and share them with people so that they are used and remembered.
Who I Would Give It To:
Knowing that this book is out there in circulation, I don't think you can have a Writers' Workshop without this book.  It should be required for word choice!  Furthermore, any lover of words needs this book.
Integration Ideas:
Writers' Workshop – Word Choice
This should be a required mentor text for teaching word choice in writing.  I will go so far as to say K-12!  After reading this story with the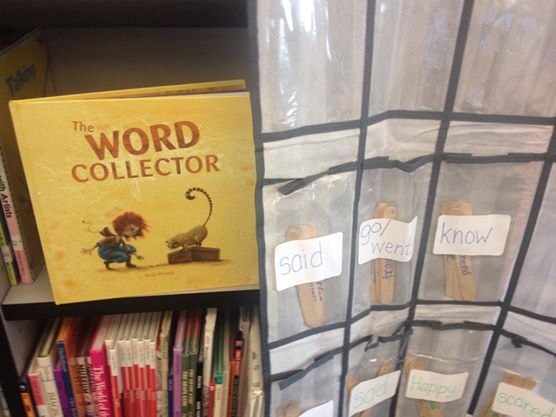 students, discussing, and studying it (there is SO MUCH to see) have students become word collectors themselves.  You can have a "class collection" or independent collections.  I used a plastic shoe holder to create a class collection.  After reading the story, the class decided on some words that were overused.  As students discovered strong words to replace the overused words, they would write the new words on popsicle sticks.  The sticks were collected in the plastic holder.  Now they could also be shared, similar to the story, with the world.  Other students could pull the sticks to use in their own writing.  I have also had students begin collecting their own words on a graphic organizer or in their journals.  As they read other student's writing, other books, and really any text, they find words that interest them.  These words are added to their own collections.  Make sure to have students use these while they write their own stories!
Poetry – Structure and Form
This story does not follow the traditional left to right print students are familiar with in picture books.  The text is deliberately organized into meaningful arrangements.   This is a great time to pull in some information on concrete poetry.
"Verse that emphasizes nonlinguistic elements in its meaning, such as a typeface that creates a visual image of the topic." (Concrete Poetry from the Poetry Foundation)
Have students discuss how the words were placed on the page and why the author chose to write this way.  Show examples of other concrete poems and discuss the features as well.  Have students write their own concrete poem.
– From Kenn Nesbitt
– Theme Poem Interactive from Read-Write-Think
– Poem examples from Poetry Soup
Words and Meaning
Sometimes, students need help going the other way with words – from complex to a simple definition that helps the passage make sense.  Enter: Rewordify.  Enter your text in the box, and choose how you want to interact with it.  It will replace difficult vocabulary with more understandable terms, it will print you a vocabulary list with or without definitions, it will even print you the original text with the definitions of challenging terms in the margins!
How have you used The Word Collector or how might you use it in your classroom?