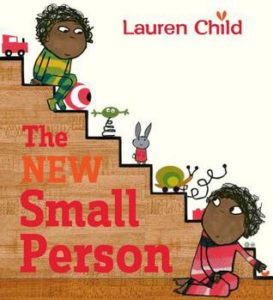 Why I Picked It Up:
I was actually reserving books at the local library and this one came up on a search.  I was intrigued by the cover and title, so I added it to my request form!
Why I Finished It:
Okay, as an adult, I knew where this story is going and I knew I would love it, so I finished it.  Kids will love this completely relate-able story as well.  The story begins with an only child, Elmore, who is used to being the center of attention.  That is, until his parents bring home a new small person.  This small person completely ruins his fun, he can't watch the same TV shows, his toys are being broken, people are giving "it" attention, etc.  Of course, in the end Elmore begins to see the positive qualities of having a "small person" around.  The language, the emotion, and the characters are so raw and true that you can't help but finish the story.  Moreover, the story will stick with you and swirl around in your head long after you put the book down.
Who I Would Give It To:
Definitely parents!  What a great read with your oldest child with a solid character for him/her to relate to and understand.  Perhaps it will help them get to "the good bits" of having a sibling sooner?
Integration Ideas:
Making Connections: Text-to-Self
The New Small Person is a great book for kids to connect to, whether they are the older sibling or  younger sibling.  Begin by asking students if they have a sibling.  Have them discuss how they feel about this person.  What things annoy them and what things do they enjoy?  Share your own experiences with the class.  If they're an only child, what are the good things about being an only child and what are the down-sides?  While reading the story aloud, stop every so often and have students share their connections.  As I mentioned already, the events and characters in this story are almost universal truths – any kid with a sibling will relate!
Writing Reflection and Personal Narrative
Have students write a reflection after reading The New Small Person.  Is having a sibling mostly good or mostly bad? Students can write their reflection on having a sibling.  The book might have also jogged students' memories about a specific incident with their sibling.  This could turn into a personal narrative.  Perhaps they remember a time when they fought over a toy with their sibling and how they felt – personal narrative!
Grammar – Pronouns
Throughout this story, Elmore refers to his brother as "it".  While this makes the story funny and enjoyable, we know that it should be "he."  Teach the students pronouns.  Since this book is more targeted towards younger students, I would teach I, you, he, she, and it first.  Then pull out sentences from the book.  One example: "But everyone said that the small person couldn't help it because it was only small."  Discuss with students, who "it" is referring to.  This is a great time to have a discussion, that "he" is proper, but why would the author choose to write it?  What is the purpose in doing that?
Have students go into their own writing and circle the pronoun they used.  Ask them to make sure it was written correctly and then let them share.  If they didn't have a pronoun, ask them to write a sentence with a pronoun.