There probably aren't any educators who would argue against the power of the read aloud, yet when the pressures of the school day hit, read-aloud time seems to be the first thing to get postponed because it's "just for fun," right? Wrong! (You already knew that!) Or maybe you're just plain tired at the end of the day and your voice can't take anymore…
The benefits of reading aloud are numerous and well-documented by educational research, as well as personal experience! When students are listening to a read-aloud, they are being exposed to fluent reading, increasing their vocabulary, learning reading strategies, enjoying a story, and learning new information.  It doesn't even have to be a "content book"! It is nice to be reminded that something as fun as reading aloud doesn't need to be sacrificed, in fact, we should work that much harder to guard that time! Let's face it, even if you're tired, who doesn't love a good read-aloud time??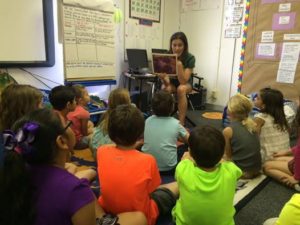 But we are realists too, we know how hard it is to guard even those 10 minutes at the end of the day and how hard it can be to muster the energy to make the story come alive. The spoken word does have power, but it doesn't matter who speaks it! You are busy – take advantage of technology to still provide your students with the benefits of a read-aloud at your convenience. There are plenty of sites online that will read a story out loud to your students – FOR FREE!  Whether you play it for the class or have students listening in stations or independently, these sites can save you time and precious energy!
Every site has something different to offer, so you might not love all of them, but here are a few of our favorites:
Do you have a favorite read-aloud site?