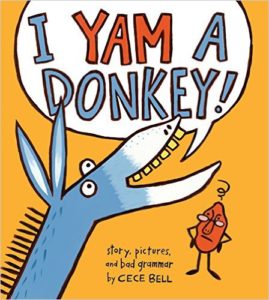 Why I Picked It Up:
The title and cover.  Yep, judged this on by the cover!  I love puns, ridiculous puns, the ones that you don't want to laugh at, but can't resist!
Why I Finished It:
It is ridiculous, yes, but it is funny!  This book is the whole, "who's on first" routine.  Throughout the entire book, Yam is correcting donkey's poor grammar, but donkey continues with his poor grammar and mixes up everything the Yam is saying.  The characters' voices are impossible to avoid.  Even as I read it in my head, my voice and inflection would change to suit the characters.  Although we won't spoil the end in this post, I will say there is a fun twist at the end!
Who I Would Give It To:
This is intended for young elementary children, BUT I promise you this book will entertain all ages!  The misuse of grammar and twisting of the communication will have even middle school children (and even adults) smiling!
Integration Ideas:
Grammar
Obviously, this book is taking the misuse of grammar that is common with kids and weaving it into a hilarious story!  Capitalize on that and use it to start a discussion with students over the verb is and all the tenses.  I see a whole lesson on linking verbs if you have older students.  Get strips of paper and have students write the linking verbs on the strips of paper.  Create a circle with the paper (or links if you will) to illustrate the fact these are linking verbs.  Then, have students write the past tense of each of these verbs.
Storyboarding
On Amazon, the author's progression of storyboards leading up to the finished book is available to browse.  This is a great time to introduce students to the idea that even published authors go through the same writing process they do – they brainstorm and have multiple drafts.  Connect this to the students' notebooks and encourage them to pre-write before they draft.
Have students choose a common grammatical mistake from a provided list.  Then, in groups, have them storyboard a scenario that illustrates the mistake.  These could be shared and posted in the room.  You can also use technology!
Often, storyboarding tools and comic strip creation tools are interchangeable. However, when you are storyboarding, make sure to keep in mind that it's essentially a rough draft. It doesn't have to be perfect!  It shouldn't take long to create because you really just want to get the general ideas on the page. For some students (and even adults!), technology may not be the right option for this process because of the tendency for getting sucked into making it perfect. Any kind of drawing tool (such as Paper 53 below) would be a good alternative because it is more free-form and offers fewer bells and whistles, leaving the creator to focus on recording their ideas.
Boords is a nifty storyboarding tool that seems to combine the best of both worlds. With a free account, you can create two storyboards. It provides frames to help students separate ideas, but images are created either by drawing or uploading a photo (which could actually be a digital photo of a physical drawing done by the student). Beneath each frame are spaces to add text – captions, ideas for voice over and any actions that should take place for that image. Beyond the simplicity of this tool (which I LOVE!), I really liked the ability to rearrange the frames easily, as well as the ease of exporting the whole thing as a PDF when it is completed.
Additional Resources: