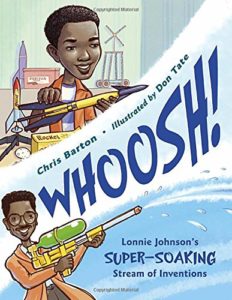 Why I Picked It Up:
Woosh! was posted on a blog I follow.  Unfortunately, I comb through about thirty blog posts a day and I don't remember which one!  However, it was posted and the cover caught my eye.  So I tracked it down at our public library.
Why I Finished It:
As a mom of three boys, knowing who invented the super-soaker water gun could only help, so that motivated me to read.  That being said, I was immediately captivated by Lonnie's persistence.  This another biography of an inventor/scientist who had to work hard, experience failure, and push through in order to become successful.  He grew poor, but pushed through and became a NASA engineer and finally an independent inventor.  I have to admit, another reason for completing this read is the surprise of learning about another, previously unknown to me, famous inventor who had a tremendous impact on the world!
Who I Would Give It To:
This is a welcome addition to any unit on perseverance.  It is probably best suited in an upper elementary or middle school class.
Integration Ideas:
Making Text-to-Text Connections and Thematic Connections
This book clearly lends itself to other books of famous inventors who had to push through, work through difficult times and fight to become successful.  See the list above (perseverance).  As I read this story, I immediately thought of three other books: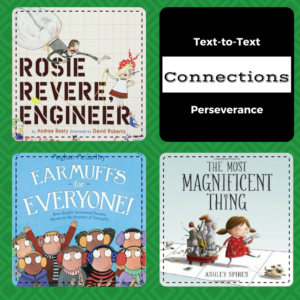 Ask students, "Why is perseverance important?" Allow for class discussion and even an independent response in their own journals.  They should even respond to a time they had to persevere. Then read Whoosh! aloud. As you read the story, stop every so often and ask what obstacles are occurring to Lonnie Johnson.  What is he doing in response?  At the end, ask the questions again, "Why was perseverance important to Lonnie Johnson?"
Then have students choose one of the three books above and read and respond to the same question, substituting the main character of that book.  Then students can compare themselves, Lonnie, and the character they read about.
Research – Social Studies and Science Connection
Clearly, this story lends itself to students learning more about other inventors or inventions that they are interested in.  Ultimately, Lonnie invented the super-soaker water gun, a toy all the students have more than likely enjoyed playing with at some point.  Have them make a list of their favorite toys or inventions, and then research who invented it.
Here are some websites that could help with these lessons:
Of course, the students might want to research more about Lonnie Johnson, or you could provide information about him after students have read the picture book.  Here is his biography site and here is a video of the inventor himself explaining the invention process.
Technology
Whether the students create their own inventions or research an invention that interests them, they can use a tool like Snapguide to share what they've done!  This great app/website allows you to go step-by-step through a process, sharing visuals or videos, captions to explain the step, and even materials needed to complete the project (be sure to include the intangibles like perseverance and determination!). Check out our previous post on Snapguide to find out more about how to use this amazing tool!
Please share your students' inventions with us!