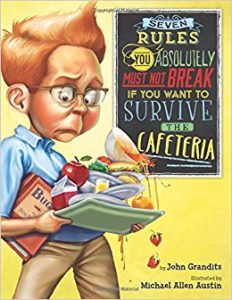 Why I Picked It Up:
Amazon told me to.  I do most things that Amazon tells me to do.  It came up on "recommendations for Jessica". The artwork by Michael Allen Austin is caught my eye and it went into my cart.
Why I Finished It:
Honestly, I had to find out all the rules!  The book begins with Kyle being told by Ginny, the know-it-all, that there are 7 rules to not break if you want to survive the cafeteria.  As Kyle gets to the cafeteria he slowly shares the rules with the reader.  Of course, he's struggling to follow the rules.  Another interesting twist is that he relates all the characters to different types of insects, which are his personal interest.
Who I Would Give it To:
This would be a fun read aloud for 3-5 grade during the first week of school, before lunchtime.  Kids are somewhat nervous about the "unspoken rules" of different places in school and this book would set their minds at ease.
Integration Ideas:
Figurative and Sensory Language
This book is full of similes, metaphors, and amazing visuals.  Some examples are:
"Ginny's voice reminded me of the constant chatter of crickets on a summer night." (p. 7)
"My class scurried down the hall like a column of starving army ants." (p. 8)
"It was the lunch lady, who always circles the cafeteria like a buzzing fly, looking for troublemakers." (p. 14)
There is almost one per page!
I like to model first and then have students in groups make inferences about what the sentence means.  For example, what does it mean that her voice is like the constant chatter of crickets?  I model for the students what I know about the constant chatter of crickets.  "When I went camping, the one and only time I went camping, I remember the constant noise the crickets were making.  It wasn't super loud, but it just continued on forever.  It was constant and I found it so annoying.  I couldn't think of anything else.  So my inference about Ginny is that Kyle thinks she is super annoying and talks too much."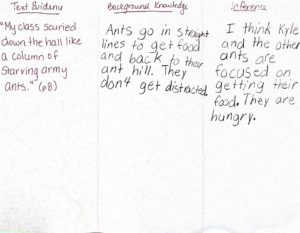 It is also fun to have students draw pictures of what they hear, smell, taste, feel, and see.  They shouldn't spend too much time on the art, but on what words made them activate that particular sense.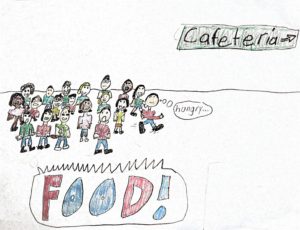 Compound Sentences
This book is full of compound sentences.  When I teach compound sentences, I first make sure that students really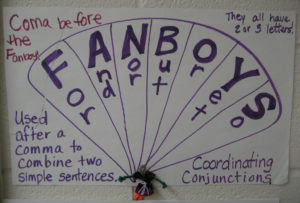 understand simple sentences.  So previous lesson topics are subjects, verbs (linking and action), and complete thoughts.  Once students understand this, I introduce conjunctions.  Like many others, I use the FANBOYS (for, and, nor, but, or, yet, so) mnemonic to help students remember them all.  I have found that students don't really understand how each conjunction changes the meaning of the sentences.  This could be why they struggle with context clues!  So, I find mentor sentences and model the meaning.  This book is full of useful mentor sentences:
"I set down my tray and tried to squeeze in anyway, but the other kids started yelling about me pushing." (p. 21)
"She's a class ahead of me, and she talks and talks and talks." (p. 4)
"They were sixth graders, and they were as scary as a swarm of yellow jackets." (p. 9)
Again, there are so many to pick from!  I take one sentence and ask the students to find the two sentences. (Ex. I set down my tray and tried to squeeze in anyway.  The other kids started yelling about me pushing.) I explain the the two sentences are combined by a comma and a fanboy to make a compound sentence.  Then change the FANBOY to each of the others and see if it still makes sense and how it changes the intent of the sentence.  "What if I said, "I set down my tray and tried to squeeze in anyway, yet the other kids started yelling about me pushing.  How does that change what the sentence means?"  Continue through all the FANBOYS.
Give student groups their own mentor sentence and have them do the same activity in groups.  Remember to always bring it back to their own writing.  Have the students find compound sentences in their own compositions.  If they don't have any, they should combine two simple sentences to make a compound sentence.
Character Analysis
In this story, Kyle compares the kids and teachers to insects based on their personality.  This book would be a great one to talk about the character traits of the kids and how Kyle's feelings change throughout his ordeal in the cafeteria.