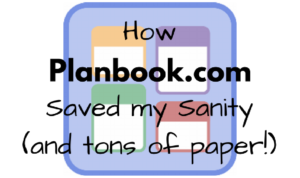 This little tool has saved my sanity (not mention TONS of paper!) this school year! As the librarian, I get to see the PreK – 6th grade classes every week for library AND technology, but keeping track of which class did what last week and what I wanted to do with them this week was stressing me out!
I wanted to be able to see at a glance what each grade level was doing over the course of the nine-week unit so I could plan some continuity, but I also need to be able to see the topics for every class in a given week so I knew what to teach the class that was walking through my door. My previous system involved lots of grids (on paper with pencil so I could make changes, bump lessons that took longer or we didn't get to, etc.) – one for each class, and then a separate one for each week – it was too much!
I happened to walk into our music teacher's classroom one day for something completely unrelated and saw this beautiful tool (Planbook.com) open on her computer screen. She showed me how easy it was, and could swear I heard angels singing. It satisfied both of my requirements for viewing lesson plans (by class and by week) AND it was digital! Other things I love about this tool:
Easily view one week's worth of lesson plans on one screen
Color coding for each class
Place to put in notes for each lesson regarding homework, notes to yourself/sub, standards covered
Print out a day's worth of plans at a time for a sub – includes classes and times for each class (!!!)
Ability to "bump" a lesson (it automatically moves all lessons forward however many weeks you bumped it)
Attach supporting lesson documents from computer or Google Drive to help you stay organized
Plans are archived every year so you can look back and see what you did last year
Mobile App!  I do all my planning on the computer, but then I have my phone with me in the lab to look at my lesson plan for the next class since I don't always have time to run to my computer between classes. I can make quick updates on my phone after a class leaves, noting how far we got in the lesson and what we need to do next week.
There are so many more things it will do (grade book, templates, goal setting, etc.) that I haven't explored yet, but the things I listed above alone make it worth every penny to me!
Disclaimer: This is a paid tool – $12/year. You can sign up for a free 30-day trial and then choose if you want to subscribe. After the 30 days, you can still access any lesson plans you make during that 30-day period, you just won't be able to make any new ones. It is totally worth the $12. (Also, we are not affiliated with Planbook at all. We're just teachers sharing cool stuff that makes our lives easier.)
Here's how it works:
Once you sign up, here's your dashboard. At any time, click on Go To to find this dashboard: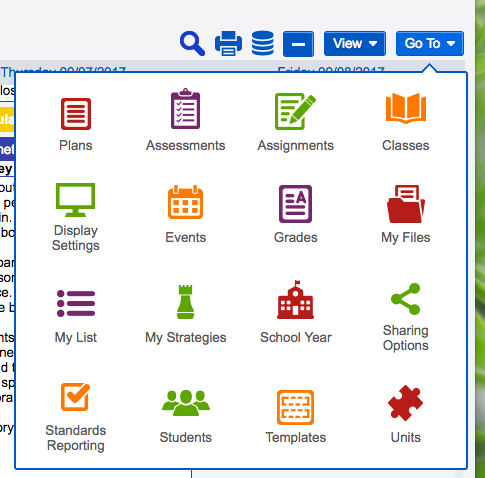 Set up your classes. Click on Classes from the dashboard. Enter the class name, start/end dates for the school year, give it a color (!) and choose the days you have that class. You can also set days where you don't have that class (think school holidays).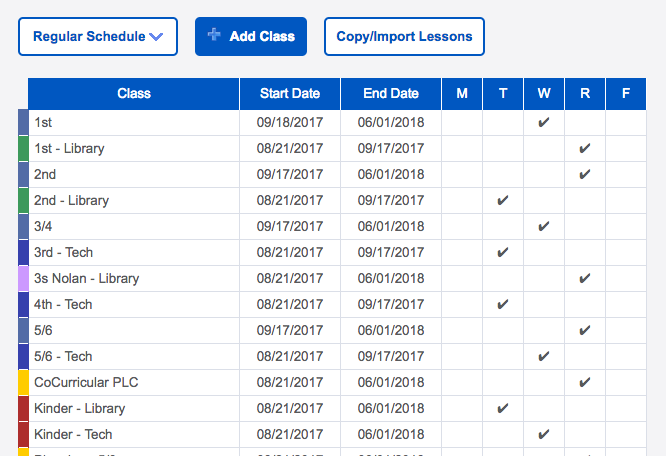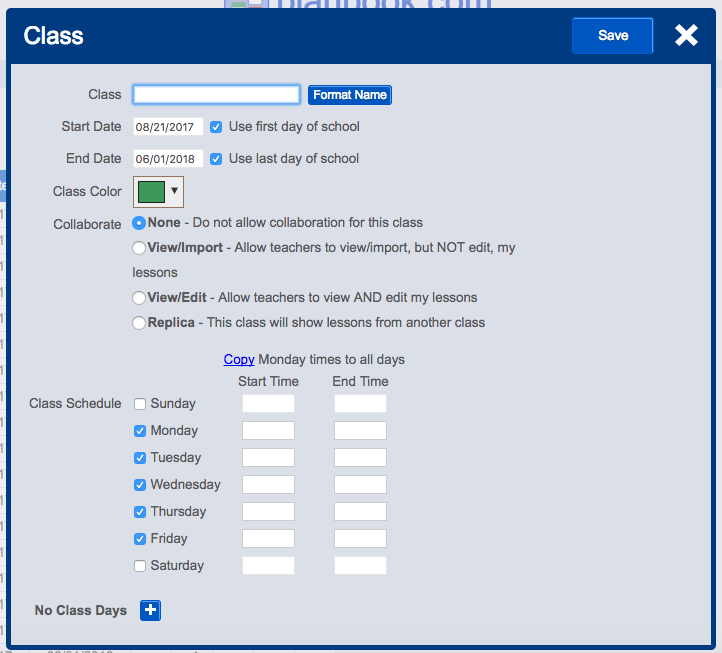 Add your lessons. (Click Go To > Plans to get back to the lesson plan page.) Double click the class you want to plan for. Enter your info. See the tabs under the lesson title? Those give you another text box for entering extra info! Only the text of the Lesson tab will be displayed in your week at a glance. See the arrows on either side? That lets you scroll through the weekly lesson plans for that class. Add any attachments at the bottom, under the text box. The dropdown box next to Actions lets you do things like bump the lesson forward or back, copy/paste, extend the lesson, or delete it altogether. Click save to return to your week.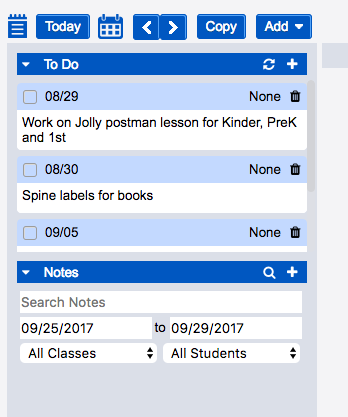 There's also a place to add notes to yourself – like a built in to-do list! Just click the notebook icon on the left side of the page when you're viewing your week. You can hide it too (click the notebook again) in case it stresses you out!
Print options are quite extensive: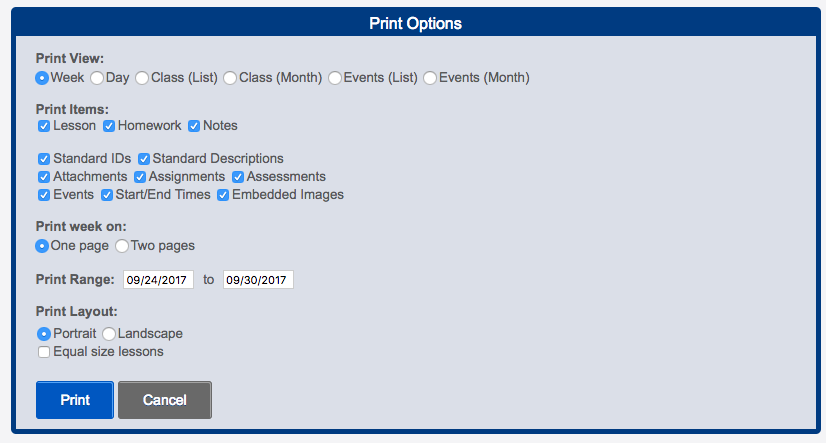 You can also choose to share lesson plans with a link (Go To > Sharing Options) – in case you need to send it to students who were absent, or you need to share your plans with other teachers/administrators/parents. You can also insert a link if you are required to post your plans somewhere else, like on a teacher website.