Anyone who knows me (Jessica) knows my passion for classroom discussion.  When students have time to have critical conversations in the classroom, they are raising their abilities in the areas of both reading comprehension and written composition. Those two reasons alone are awesome reasons to incorporate more conversation, but conversation does so much more than just that!  Through conversation, students become aware of multiple perspectives, they learn how to be open-minded critical thinkers! How great would it be if we had a society of FULL of people who were able to engage in deep discussion, have a difference of opinion, and be able to understand another person's viewpoint??
I understand that conducting these conversations in the classroom can be overwhelming and a bit scary.  I recently read an article by Glenn Wiebe on this matter and he reminded me of one of my favorite sites, ProCon.org.  I have used this site in the past for helping students write persuasive papers and it was always a hit with the students because, let's face it, if you are currently teaching middle grades and up, you already know that students love to voice their opinions!
ProCon.org lists tons of controversial issues, including some you might consider beyond the scope of the classroom. Direct the students to the ones you want them to focus on.  The categories on the site are: most popular, health & medicine, education, politics, science & technology, elections & presidents, world/international, sex & gender, entertainment & sports, and economy & taxes.  The last two are "You may also like …" and "From our headlines…"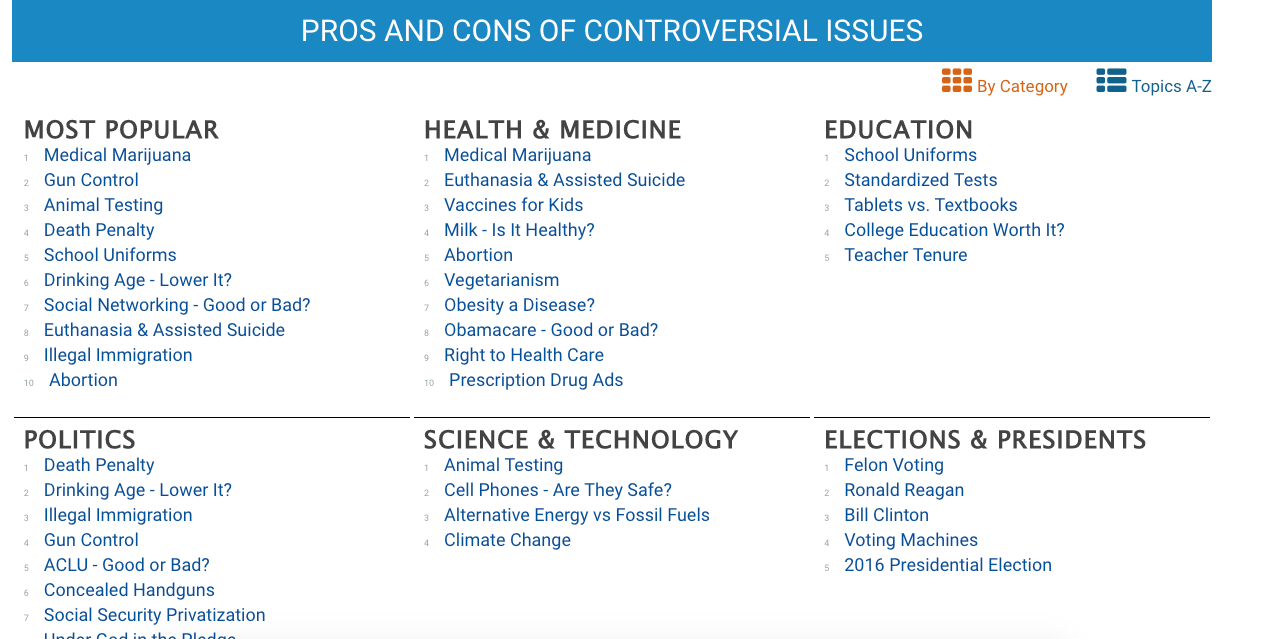 Once you select your issue, the page will provide a small amount of (typically impartial) background information for the student. Then, below, it outlines both the Pro and Con sides of the argument, listing discussion points for each side. (From what I've seen, the number of Pro points are typically equal to the number of Con points.)  This is a perfect way to get students to notice that these issues are not simple, that there is not an easy solution, or it would have been fixed already.  There are almost always multiple perspectives and it is important to listen and hear everything before deciding where you fall on the issue.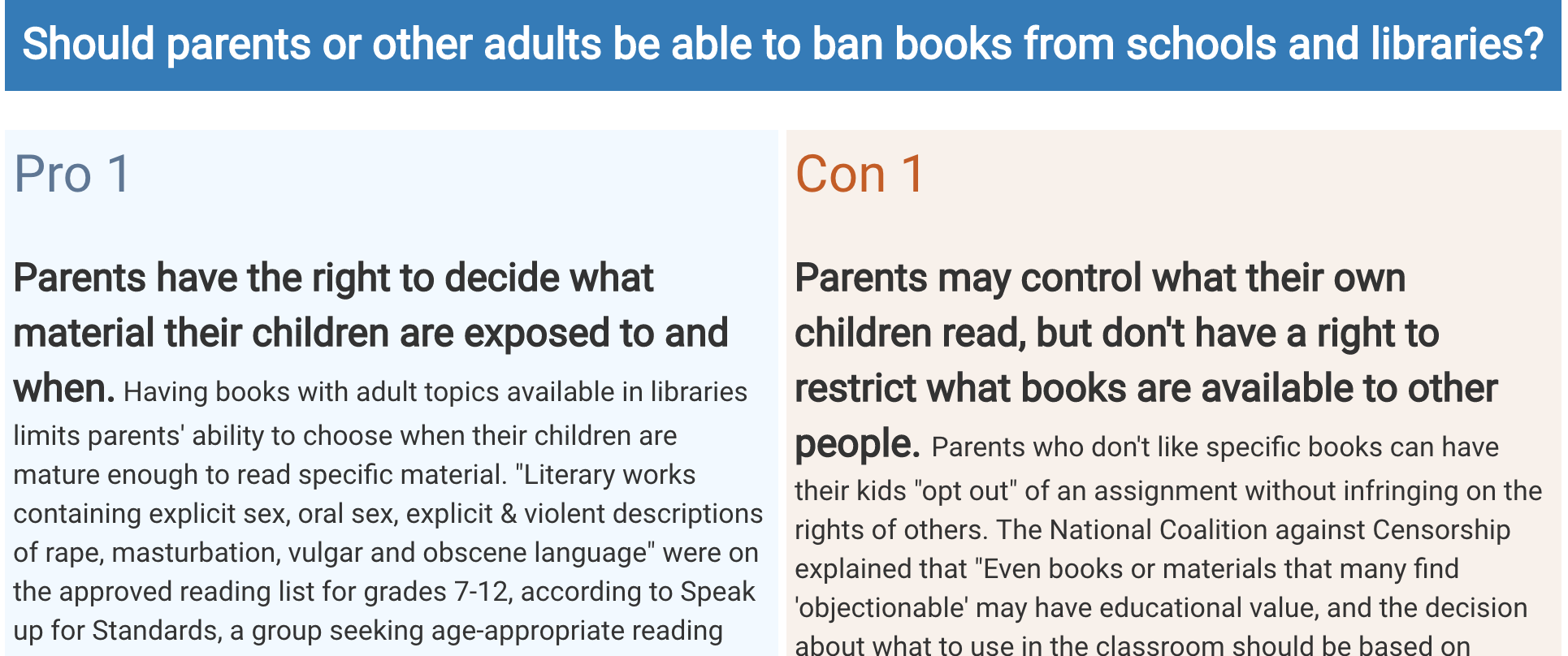 I teach my students to always listen to others' point of view. Then, if you don't agree, think about if you have a fact that can support your feelings.  If you do, share that fact and begin a healthy discussion.  I also tell them that sometimes emotion plays a big role in our personal stance.  I think this is okay as well.  However, I want my students to know when they feel a certain way because of facts or they feel a certain way emotionally.  And then I tell them to own it.  It's okay to say, "I understand what you're saying, I just can't stop feeling ___."  Regardless, it is important that they never stop listening.
After looking through the new Texas Essential Knowledge and Skills , I'm so excited that there is more focus on oral discussion!  We might not be responsible for those standards yet, but we can get started now!  Check out ProCon.org and get your students discussing poignant topics!
Tech Integration:
Create a Topic vs. Topic Infographic to have students examine both sides of their own issue, or add to the conversation about an issue they've researched on ProCon.org. This template is created in Google Drawing so you can incorporate some of the Tech Apps TEKS too!
If you would like to have us come to your campus to share social studies tools and ideas, check out our Workshops page and contact us!