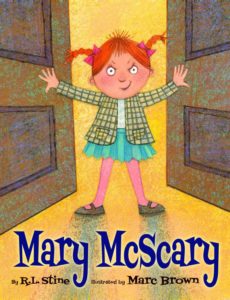 Why I Picked It Up:
There is a good chance I have a soft spot for bratty looking kids!  The cover had me from the moment I stepped into Barnes & Noble.  Then I looked at the author and illustrator and realized that I would definitely have to read it!
Why I Finished It:
Mary McScary could scare everyone, her parents, pets, even a balloon, but not her cousin, Harry McScary.  Of course, Harry comes for a visit and she tries everything to no avail. I had to find out what would finally get him!  When I found out what that was, I knew I loved this book!  So real and so fun.
Who I Would Give It To:
I think elementary teachers should add this to their Halloween collection.  It's not about pumpkins, ghosts, or skeletons, but it is about the spirit of the season … fear!  It's playful and fun, without being scary or a questionable read aloud.
Integration Ideas:
Writers' Workshop – Generating Ideas
Before reading, ask students about times they were scared.  It's important to come equipped and ready to share many examples of times you were scared.  I usually have at least twenty stories ready from my own experiences, as well as experiences from my kids and their friends.  By hearing stories of times that other people were scared, it's sure to jog your students' memory for their own experiences.  My class might sound like this: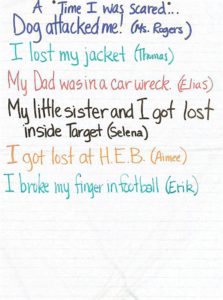 "Can you think of a time you were scared?  Think for a moment [pause].  Let me share a time I was scared.  One time I was playing tennis outside and the ball got away.  It rolled over by a big scary dog.  The dog had a chain around his neck, so I figured he was tied up.  But I was a little nervous.  As I got closer to the ball and bent down to pick it up, I locked eyes with the dog and realized he wasn't tied up.  He began snarling and running towards me.  I was SO SCARED.  I began running away.  He wound up biting part of my sweater off!  Who can share a time they were scared. [Write ideas for the students who shared].  Good, let me tell you about a time my son Jack was scared …"
I will keep alternating between sharing a story and having students share their stories.  My stories will range in topic so that students don't think they all need to share a story about an animal.  Once about 80% of the kids have shared a story, I will read Mary McScary out loud and then ask every student to come up with one time they were scared.
Make Predictions (Inferences) and Make Connections (text-to-self)
Before you even begin, read the title and share the picture with the students.  Ask them to make predictions about Mary McScary.  Once you get to the page where it says "she can scare everyone but Harry McScary," ask students if they think she will eventually scare Harry and if so, what will do it!  Keep checking in with students so they can confirm or adjust their predictions.
In the end, ask students if they have ever been scared or known someone who was scared like Harry in this book.  Allow time for students to share connections.
Writing – Personal Narrative
Students generated ideas earlier of a time they were scared.  Now let them write their stories.  It's really important that personal narratives have a beginning, middle, and end.  Have students tell their stories out loud to a partner.  As they share their stories have them hold up three fingers for beginning, middle, and end.  As they share their story have them hold up a finger indicating what part of the story that is.  The partner listening can ask questions about their story.  Tell students that these questions will let them know what information their readers really want to know.  They should consider adding those details to their story.  I like the students to share these stories out loud at least five times indicating what part of the story it is.  Each time it might change based on questions the partner had.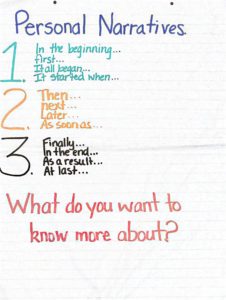 Then, give students three sheets of paper (they can always get more) to write the beginning, middle, and end of their story with pictures of course!
If you are interested in more ideas for mentor text or Writers' Workshop contact us to visit your school!