** Contact us if you would like to have one of our research-based, engaging, and practical workshop sessions come to your campus! **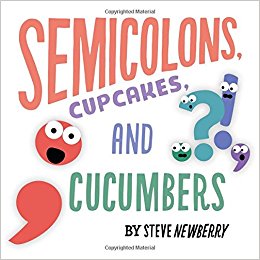 Why I Picked It Up:
I couldn't resist.  I was reading one of my many blogs and this book came up.  I really need to start writing down which blog I saw things on because I can never remember. Since I teach writing not only to students, but to teachers through professional development as well, there is NO WAY Semicolons, Cupcakes, and Cucumbers was not going in my Amazon basket.
Why I Finished It:
It's absolutely adorable.  There are tons of books out there that try to teach punctuation and this one is one of the best!  It has an adorable storyline that personifies punctuation, which makes the reader interested in the events of the story. However, it also impactfully teaches punctuation at the same time!  Newberry makes this seem like an easy task.
Who I Would Give It To:
Teachers! Parents! Kids!  Give it to everyone!  Admittedly, this is probably best for the younger kids, maybe ages 4 – 10, but I'm a huge fan of bringing it to the older kids to help them with punctuation too!
Integration Ideas:
Writing Conventions: Introduction to Punctuation
So this is the obvious application of Semicolons, Cupcakes, and Cucumbers , but I decided to go there.  I began an anchor chart with the five types of punctuation we were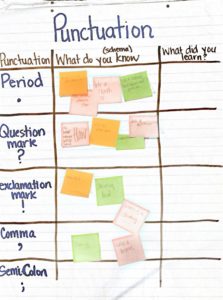 going to read about.  I had students work in groups of four.  With post-it notes, I asked them to write what they know about each type of punctuation.  They put the post-it notes on the anchor chart and we read through them as a class.  Most students had something to say about periods and question marks, but it quickly dropped off as we went further into punctuation.
Once the chart was done (for now), I read the story out loud.  As I read the story I overemphasized how to read each sentence based on the punctuation.  Then I displayed the book pages using a document camera on the screen so everyone could see it close up and read it a second time pointing to the speech bubble I was reading.  It was at that moment that we slowed and looked at the pictures too, because at least one student will realize they see semicolon lurking behind the trees before he jumps out!  Nothing like hidden pictures to excite the class!  Once we finished reading, the students got back in their groups and added to the anchor chart, writing what they know about each type of punctuation.
Once the students did this, we read the last few pages of the book … the backmatter.  In this section, Newberry explains the function of each type of punctuation.  You can also have students make their own chart in their journal.  [Punctuation Organizer]
Writing Conventions: Punctuation Interaction
It's time to let students interact with these new concepts.  I am a huge fan of PASTA! It's for eating and for grammar.  Find pasta that looks like commas, exclamation points, periods, etc.  Write sentences for students and then in groups let the choose the correct "pasta" for the task.  You'd be surprised how much your students will love "playing" with pasta.  I even did this with middle school students and they were so excited!
During this time, walk around and listen and observe your students.  This is a great formative assessment.  I walk around with a blank piece of paper on a clipboard and write down when I hear insightful conversations as well as misconceptions.  Sometimes I intervene and reexplain a concept to the students and other times I let them figure it out.  It really just depends on how "off base" they are in their thinking.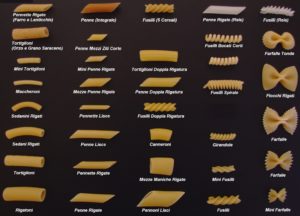 Writing Conventions: Punctuation in Context
Now it's time to put this new information in their writing.  When students apply skills where you want them to actually use the skills, it will stick!  So, model for the students your own writing.  At the end of each sentence, do a think aloud.  It might sound like this, "My first sentence is, I love to watch my goldfish swim.  I know it's a complete sentence because it has a subject, a verb, and it is a complete thought.  I am making a statement and not asking a question, so I am going to put a period at the end.  My next sentence is …"
Once you finish your modeling, have students go to their own writing and check for punctuation.  During conferences ask students about the punctuation they are using and why they used it.
Making Connections: Text-to-Text
So I would be remiss if I didn't share my other two favorite punctuation books.  They are Yo! Yes? by Raschka and Exclamation Mark by Krouse.  Both of these stories also illustrate for students how to use punctuation, the first focusing on periods, exclamation marks, and question marks, the second on exclamation marks.  Each book also has a fun story line, that takes the kids out of information-heavy instructional manuals on how to use punctuation.
Check out the Book Trailer