** Contact us if you would like Literary Fusions to come to your campus with engaging, evidence-based, and practical professional development **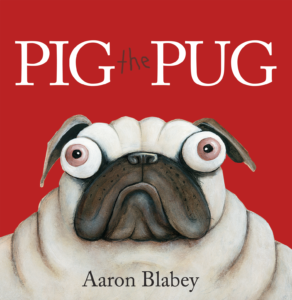 Why I Picked It Up:
Once again, the adorable cover caught my eye.  Pugs are adorable anyway, but the bright color contrast and the bewildered face of this pug drew me in.  When I read the title, my own slight confusion made me want to read the book.
Why I Finished It:
It was quite amusing.  There's something about the greedy pug named Pig and his interaction with the other dog that made me smile.  Full disclosure: I read it a few times.  The second time I read it out loud to my ten-year-old.  He giggled throughout.  The third time, I read it with a teacher's lens.  Pig is such a loveable character who, like my children, doesn't want to share.  He hoards his toys and refuses to share with the other dog, at least until he has no other option.
Who I Would Give It To: 
This is such a great read-aloud for elementary students.  The rhyming pages and rhythmic text almost begs to be read out loud.  In addition, it is sure to bring a smile to all your students' faces.
Integration Ideas:
Idioms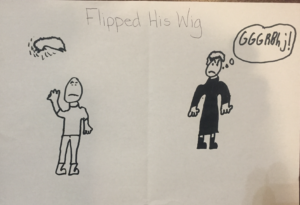 Explicitly teach your students about this specific type of figurative language.  Idioms are expressions that are particular to a certain person or group of people.  Idioms don't literally mean what they say, the students will need to make inferences about what the phrase really means.  In this book, the idiom "flipped his wig" is written.  Depending on the age of your students, you could explain the history of this phrase.  I have found that even the youngest kids are interested in this sort of information.  Here is what the word detectives found on this particular phrase: http://www.word-detective.com/2012/04/wigging-out/.
After explaining idioms, read  More Parts by Tedd Arnold.  Make a list of all the idioms.  Then have students work alone or in pairs to draw the literal meaning and then the figurative meaning.  These can be displayed on a bulletin board so all the students can see all the phrases.
Technology Integration – Idioms
This is a great (and fun!) opportunity to incorporate technology in the form of an app smash! You have two options here. Both options involve students using an app/website to annotate their drawing and add their thought process to create a video of sorts that lets you "get inside their heads." We've used a lot of different apps, but VoiceThread is an easy one that lets you annotate and record. What makes VoiceThread a valuable addition to your app toolbelt is the ability for students to have "conversations" around the media. They can read/listen to each other's comments and respond, making it an interactive experience.
But, you have to have something to talk about, something to upload. Here is where you can get creative! Have the students draw their explanation on paper as above and take a picture of it to upload, or have them use an app to do the drawing. It's up to you and your technology situation!
Here's an example using Doodle Buddy and VoiceThread: https://voicethread.com/myvoice/thread/7245576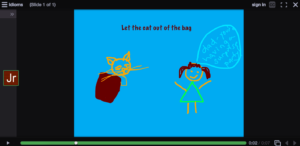 Rhyming
Most kids, possibly most adults, enjoy rhyming text.  When you read it out loud it almost becomes musical.  The students are able to hear the words and predict what words might be used and they can easily remember the words when they do repeated readings.  So why not put this book in a station after it has been read out loud so that students can enjoy reading it over and over? I loved reading it multiple times … and I'm 40(ish).
Read the story once all the way through for enjoyment and then, when you read it a second time, ask the kids to pay attention to the rhyming words.  This is always a fun way to get the kids to read with you.  I would project the pages of the story on an interactive whiteboard the second time I read it through, pointing to the words as I read them and have the kids read the rhyming word on each page.  They love it!  Some of the rhyming words in the book are; pig/wig, share/swear, stuff/puff, and scoot/loot.  As you can see, most of them follow identical spelling patterns.  I would have students start word families with pig and wig.  As a class, we would generate other words in that family.  Some words my students suggested were zig, twig, fig, and big.  In stations, have students generate more words for the other word families in the book.
Theme, Connections, and Character
I really do think it's so important to always have students talk about the theme or the big ideas in books, even from an early age.  This book has an obvious message of friendship, greed, and change of heart.  Once you've read the story with the students, ask them if there was a message the author was trying to share with us, maybe a lesson that we can learn from and apply to our own lives.  The students might need some help and guidance as they answer this big question.  I would prompt with other questions like, have you ever had a friend who didn't want to share any of their toys?  Or have you not wanted to share?  How did you feel?  What happened with the friendship?  Then reverse it and ask how you feel when your friends do share their toys?  Discuss what makes a good friend.  Then reread the story.  Ask again what message the author is trying to share.  Keep prompting students and help them come up with the underlying message.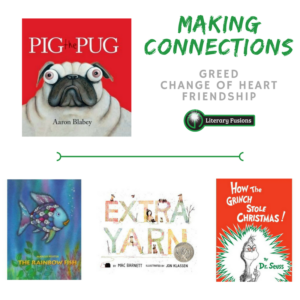 See if they can connect that with other books that you have read as a class or that they have read. Here are a few that might go into this text set:
Extra Yarn by Mac Barnett would be a book that isn't an obvious connection.  In this story, a little girl is happy to share her yarn which is helping a whole community remain warm, but when it is stolen by a greedy man, there is no more yarn.
How the Grinch Stole Christmas by Dr. Suess would also connect to how greed is a negative quality and it's much nicer to share.
The Rainbow Fish by Marcus Pfister would round out this collection of greed versus sharing and friendship.
Predictions
This story really does leave the reader hanging so to speak.  In the end Pig the Pug is sharing because he has to.  I love to ask kids what they think will happen beyond the book. What do you think will happen when Pig is fully mended?  You'd be surprised how much the answers vary.  This lends itself to a fun writing activity.
How have you used Pig the Pug in your classroom?