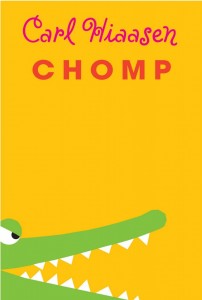 Why I picked it up
I loved reading Hoot with my fifth graders and I came across the book trailer for Chomp on YouTube. Both of these together meant that I had to at least take a closer look.  After reading the teaser on the back, I knew it was a must read.
Why I finished
Just like all of Hiaasen books I have read, there is a dry wit that just makes me smile.  I am constantly in arguments with my husband about how I'm sure that those survival shows are fake and the survivalists are phonies and now I have a book that will just fuel my side of the argument.  This story features an adventure "reality show" star, Derek Badger, who joins forces with animal wrangler Mickey Cray and his son Wahoo to help him as he's shooting in the Everglades.  I found myself connected and chuckling throughout the read.  The characters are crafted with such authenticity and perfect simplicity that it's hard not to enjoy each one.  The story line, while a little silly, is current to our current pop culture and how it has succumbed to reality television.
Who I would give it to
Obviously the first person I will give the book to is my husband!  He must learn the truth behind his beloved reality shows.  Other than him, I think this book is great for upper elementary and middle school students.  The reading level and story line are manageable and will keep higher readers engaged with rhetorical elements and humor.
Integration ideas
Text – Text Connections
Have students discuss their favorite reality shows before they read Chomp.  Make sure that the students discuss how they feel about the shows.  Do they believe they are real or do they think they are scripted?  What are reality shows affect on society?
Then during the reading, have students return to those thoughts with new thoughts from the book.
Characterization and theme
The major theme for this book is arguably survival.  Have students discuss the characters and how their traits support the theme of survival using text evidence.
Writing letters and research
Have students create their own idea for a reality show and write a letter to a broadcasting company explaining and persuading their pitch.