We love to read and we love a good story (we hope that much is obvious by now!).  But we are also adults. We look at books through our teacher/mom lenses, and so sometimes it's helpful to get a kid perspective.  Today's guest post is written by Jessica's seven-year-old son, Rhys, as dictated to his mom (after only minimal threats and coercion).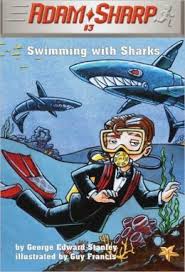 Why I picked it up
My mom and I were looking through the library shelves for a new chapter book for me.  I really thought it would be good, because I love sharks and robots.  This cover had robot sharks on it!
Why I finished it
The main character is Adam Sharp and he is a secret agent.  I think that is cool, because he goes to school too.  He wears tuxedos everywhere.  I had to finish reading because I love robots. Also, Adam Sharp was solving a mystery of why the ships were sinking down in the ocean.  At first he didn't know why it was happening, but he figured it out using clues.  He is very smart and did courageous things like swimming under water so he could solve the mystery. I liked the story, but don't think I want to be a secret agent because I'd rather be a guitar player.
Who I would give it to
I think my Kindergarten teacher, Ms. Williams would love this book because she loved reading.  I think all boys my age (7) should read this book.  I'm already reading the next one in the series.
Integration Ideas (from Jessica)
Making Predictions – This book lends itself to students reading small chunks and then making predictions about how the mystery will be solved.  As my son was reading this, I would ask him every day what main thing occurred and what he thought would happen next.  The most important part to remember is that they need to explain WHY they think something will happen.  (Text Evidence)