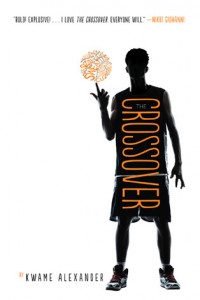 ** Contact us if you would like to have one of our engaging mentor text sessions come to your campus! **
Why I Picked It Up:
I have been on the hunt for a "non-girlie" book in verse.  It seemed like a futile task until I came upon The Crossover.  From the cover, it was obviously about basketball (although I didn't realize that crossover is a basketball move) and it appeared to be a male protagonist.  I flipped through the book, read some reviews and realized this book would be one I'd enjoy, and possibly my two older sons as well.
Why I Finished It:
This book is fast moving and engaging.  Not just about basketball, but intricate relationships between family members.  In the beginning, Josh Bell (the narrator) is focused on his basketball game.  His family (mother, father, and twin brother) seem to be perfect.  Slowly, as Josh and his brother grow up and hit adolescence, things at home begin to change.  Priorities are switching from the game to girls, and the brothers are growing apart.  It becomes apparent that Josh's father is having to watch what he eats and is suffering from high cholesterol.  These relationships are affecting Josh's game and he begins to have inner conflict.  Josh is such a real character and easily identifiable.  As I was reading, I could see my two sons who are close in age having similar conflicts.  The story was real and raw.
Who I Would Give It To:
This book is a must-read for every male adolescent interested in athletics.  The beauty is that this is a very true tale for many young men.  I can't wait to put it in the hands of my boys and be able to discuss what is happening and how they can identify with the character.
Integration Ideas
Theme
Two major themes are prominent in this book – family relationships and loss.  I would begin by asking students an open-ended question such as "How do relationships affect me?"  Have students respond personally.  As students read this book, the same question can be answered with the characters in the book.  How are the relationships affecting the character?  What evidence do you have to support that?  Have students pull out the theme as well as some minor themes.  Connect with other novels that have family relationships as a major theme: Okay for Now by Gary D. Schmidt, Jake and Lilly by Jerry Spinelli, or Almost Home by Joan Bauer.
Vocabulary
The narrator, Josh, has a magnificent vocabulary and isn't shy about using large words.  However, when he does, there is an entire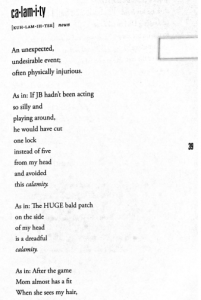 page dedicated to explaining the word.  It begins with the word and pronunciation, followed by definition and at least three examples of how to use the word in a sentence – all tied to the story plot!  This would be a good opportunity to include dictionary skills into the class.  Also, a great way to use Sherry's App Smash recipe!  There is even the possibility of having the students choose their own word that goes with their life at the moment and copy the same format!  If you do that – please share!
Poetry
The story is told in verse.  At times, it felt almost "rap-like", but it also keeps you on your toes!  Some pages are concrete poems or shape poems.  They are typically explaining a part of a game and the shape makes you feel the ball bouncing, swishing, or passing.  You can feel the ups and downs with the shape of the poem.  This would be a perfect opportunity to use those pages as a mentor text and allow students to create their own shape poem.
High school lesson plan idea: http://goo.gl/6vulbX
Grades 3-5: http://goo.gl/hqs3Pg
More Lessons in our updated post: Click here