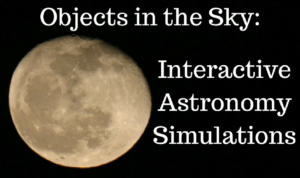 In several of my classes recently, we've been studying objects in the sky in some form or fashion. Whether we're talking about how the Earth, moon, and sun move in relation to each other, eclipses and moon phases, constellations, or the different planets in our solar system, kids love to learn about those mysterious objects in the sky!  I love being able to blow their minds by demonstrating the relative size of the Earth and the moon, or relative distance between the sun and the other planets.
However, after several great conversations and a few hands-on, kinesthetic demonstrations with spheres of various sizes and really long measuring tapes in the hallway, it seems that such celestial concepts are still tricky for young minds to fully grasp. Enter: Astronomy Simulations from the University of Nebraska-Lincoln.
I first stumbled across the lunar phase simulation as I was working on a moon phase lesson in which we were going to construct the moon phases out of Oreos (yum!). It was such an easy way to provide an accurate model of what actually happens during the course of a month, especially on my interactive whiteboard. It was also flexible enough that we could demonstrate a specific point or manipulate the simulation depending on questions that arose. And it sure did spark some great conversation!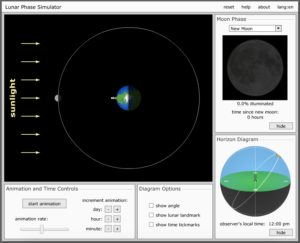 There's even a basketball simulation!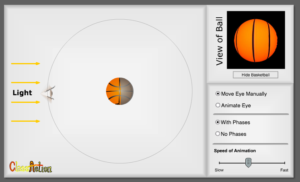 Using my keen sense of teacher intuition, I soon determined there was more where that came from, and this site is now one of my first stops when I'm trying to help students visualize anything involving astronomy. Some of the simulations are a little more advanced and might have too much information for K-12 students, but you can always use them as a conversation starter, to introduce a topic, or just pick and choose the parts of the simulation you discuss as a class.
Some other favorites:
I primarily work with PK-6th, so these are on the more elementary side of what the site offers, but there are SO many more to explore! http://astro.unl.edu/animationsLinks.html 
There are also some interactive exercises that would work well on an interactive whiteboard, and several of them are accompanied by PDF exercises that could be done off-line.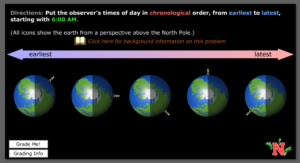 Here's the link to the whole list: http://astro.unl.edu/interactives/
Books on Astronomy (to integrate ELA/R):
Happy hunting!