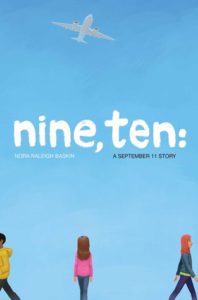 Why I Picked It Up:
I had been searching for upper elementary novels with some "meat", something that would spark curiosity and make students think more globally.  I can't tell you how many books made my Amazon cart that day (because then I'd have to admit I have a problem), but this one stood out as a clear "read me first" winner.  I remember getting my fifth-grade social studies class ready for the day when the news spread among the faculty that the Twin Towers had been hit.  I remember the chaos that ensued and the fear of my students, of my peers, and the world!  I was interested in how Nora Raleigh Baskin was going to handle the events of 9/11 and present them to pre-teen children.
Why I Finished It:
There was no way not to!  Reading a book about 9/11 is about as difficult as reading a story about the Titanic…you know the ending so how do you build suspense?  Baskin introduces four children, each with a unique back story, on September 9, 2001.  There's Sergio, who lives with his Grandmother in New York City because his father is only eager to help when it suits him.  Naheed is an American Muslim who is learning to be confident in her religion. Aimee is a girl who has moved to a new state so her mom could start a new job that would have her traveling to New York frequently.  And, last but not least, there is Will who is living in Pennsylvania and dealing with the sudden and tragic death of his father. Baskin tells each kid's story through first-person narrative over the two days leading up to September 11.  The kids are completely relatable and are dealing with issues that kids their age deal with or have come in contact with.  However, any reader with the schema of the events of 9/11 know that each of these kids worlds will be turned upside down in two days, but by how much?  I love the way this story focused more on the children and how they were affected and not a history of the actual event.
Who I Would Give It To:
I think it would be hard not to give this book to everyone.  In fact, once I began telling people I was reading it, I had a sign-up sheet for who wanted it next.  The plot is intriguing and the story is moving, it's hard to not want to read this.  However, if I have to choose, it is probably best for an upper elementary/middle school classroom.
Integration Ideas:
Theme (with a little summarization)
Since this book features the historical event that threw our country into a war on Terrorism and the lives of four children and how they change throughout there are clearly many themes. Two stood out to me; family relationships and identity.  I would focus on identity. Each child in the story has an identity that is changed because of their family relationships and the tragic events that occurred on 9/11.
Divide the class up into four groups and have each group follow one character.  At the end of each day discussed in the book (9/9, 9/10, and 9/11) have each group summarize what is happening to the character and how the character feels.  Then have them answer the guiding question: How is your character's identity formed by society?
Character Analysis and Making Connections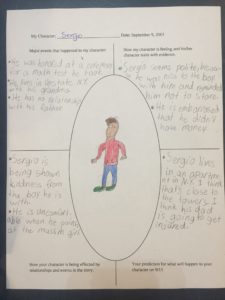 There is no way to not teach characterization with this book.  Each character is real in the sense that they are believable and truly represent a child that is probably at your school!  Typically I am not a fan of pre-created graphic organizers reproduced and distributed by the teacher, but I have created one for this story.  I think it's so important for the students, when reading this story, to stop after each day and reflect on their chosen character, to jot down what happened to the character, to illustrate what they are thinking, to think about how the character feels, to think about how their identity is being altered, and to predict how their lives will be forever impacted by the events of 9/11.  Here is my graphic organizer for you to use: Character 9.11 story.  I only ask that you share some examples with us in the comments section!  Have the students make connections between the characters and themselves.