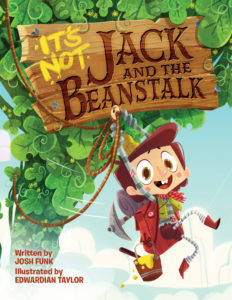 Why I Picked It Up:
We got this one in the mail and were thrilled when we saw it was by Josh Funk! There were a few tense moments while we debated who would get to read it first…Sherry politely deferred and I won! We love his books (see our review of Lady Pancake and Sir French Toast here). This particular book was sent to us in exchange for our honest review. You can get your own copy when it's released on September 19, 2017!
Why I Finished It:
Once again, Josh Funk delivers something new, a little quirky, and absolutely engaging!  In this tale, the narrator is trying to tell the classic story of Jack and the Beanstalk, but Jack is fighting the story.  He thinks what the narrator is telling him to do is absurd, ridiculous, and he puts his foot down.  I love the banter back and forth between Jack and the narrator.  It's really one of those stories that you just smile all the way through!
Who I Would Give It To:
This needs to be in elementary teachers' arsenal of traditional books!  It's so clever and I love the idea of having the traditional tale in a text set with a few other fractured tales.  There aren't many on Jack and the Beanstalk, so this book is helping me grow my collection.  Here's my current text set for Jack and the Beanstalk:
Integration Ideas
Text-to-Text Connections
Before introducing a fractured fairy tale, I really make sure that students have been exposed to the original tale.  So after reading a traditional version and Funk's version, have the students compare the characters of Jack in both stories by talking about Jack's character traits or his personality.  In the original tale, students might describe Jack as brave, humble, selfless, persistent, resourceful, adventurous.  In this tale, Jack might be practical, curious, obstinate, cheeky, headstrong, independent, reluctant, arrogant, rebellious.  These are all personality traits. Jack also has many feelings throughout both versions of the story. In Funk's version, he feels frustrated, frightened, compassionate, empathetic.
Once students have analyzed the character from each story, have the students discuss similarities and differences between the two Jacks.  To help them prepare for this discussion, have students make a venn diagram. I prefer that students practice independence by making their own organizers. Here's a Snapguide of my favorite way to have students create a venn diagram (https://snapguide.com/guides/create-a-three-tab-book/). It starts with a three tab foldable, but instead of writing three different things on the front, before you cut the tabs, draw your two circles to create your venn diagram, overlapping the circles in the middle section. That way, your students have lots of room to write their similarities as well as their differences.
Students can also make connections to other fairy tales.  In this tale, Jack runs into Cinderella and part of her story intertwines with Jack and the Beanstalk. There are nods to other fairy tales to spot in the illustrations.  I don't want to give them all away, but there is the cow jumping over the moon and dish running away with the spoon! This will require some background knowledge of other fairy tales, but is super fun to look for!
Sherry loves books that play with the relationship between the narrator and the reader. You can make connections to texts written in a similar style as well:
Asking Questions
Okay, we all know that good readers are always asking questions as they read.  Well, Jack is almost doing a model lesson, a think-aloud, of how to ask questions when you read! For example, look at the page here: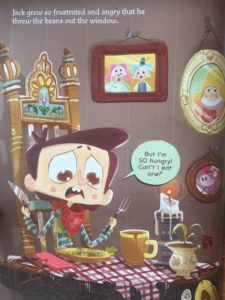 The story explains what Jack did and Jack is asking questions about the text, or questioning the text.  As I read this story out loud, I would stop and ask what questions Jack has while he's "reading" or "being read" the text.  How did his questions change from beginning, to middle, to end?  Then we would practice asking questions in texts we are reading.
Writing – Word Choice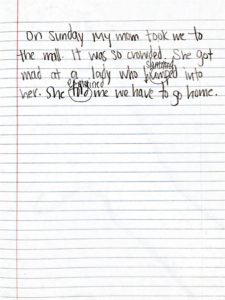 Josh Funk uses amazing vocabulary in his books!  They didn't just come to a castle, they "arrived".  Items in the giant's house were not just big, they were "tremendously large".  The giant didn't have a loud voice, his voice was "booming".  Choose a sentence from the book with one of these spectacular words and put it on the board.  Ask the students to discuss which sounds better, "Suddenly, Jack heard a booming voice -" or "Suddenly, Jack heard a loud voice -".  The students, at least most of them, will gravitate towards the "booming voice".  Ask students to explain how the word "booming" changes the sentence.  Perhaps it almost makes you hear a deep, rich sound that is echoing in the "humongous house".  After a discussion of how word choice creates a clearer picture for the reader and helps to stimulate the senses, have students choose a sentence in their own writing to change word choice.