** Contact us if you would like Literary Fusions to come to your campus with engaging, evidence-based, and practical professional development **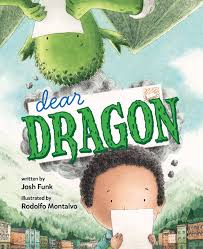 Why I Picked It Up: Josh Funk, that's why! We tend to get hooked on authors, especially ones that make us laugh! Sir Pancake and Lady French Toast has become one of our favorites, and It's Not Jack and the Beanstalk fed my fractured fairy tale obsession, so when we saw he had another one, we needed to add Dear Dragon: A Pen Pal Tale to the collection! When you pick up a book by Josh Funk, it's pretty much guaranteed to be clever and hilarious! (We weren't paid to say that either – it's true!)
Why I Finished It: This book has lots of layers. At the beginning, we are introduced to two very different classrooms that are going to be pen pals. Oh, and since they have good teachers, they decide to integrate some of the curriculum, so they're going to work on poetry AND letter writing at the same time. What follows is the correspondence between Blaise Dragomir and George Slair. I LOVE the humor there! The letters give snippets of the lives of both kids, who essentially do the same thing, but in very different ways. Of course, I kept reading to find out if they would ever realize exactly who they were writing to. They do, and the ending is a sweet reminder that differences don't have to prevent friendships.
Who I Would Give It To: The obvious connection is in English with letter writing, but I think Dear Dragon could find a place in elementary social studies classrooms as well (see social studies integration ideas below!). My four-year-old loved it as a read-aloud, and so did my husband, who kept insisting he wasn't listening but kept also insisting to see the pictures.
Integration Ideas
Letter Writing
This is a great opportunity to practice letter writing with pen pals of your own! There are lots of websites that facilitate connections with people in other schools, even globally, if you want!
Students really need the experience of writing friendly letters as well as formal letters.  When students have penpals to practice writing informal letters to, they have an authentic audience.  You'd be surprised, even in this day and age, how excited students will be when they receive a letter back!  Remember, the students will need to be taught how to write a friendly letter.  I always make sure to teach them not only the parts of a letter but how to respond to the penpals letter and then how to add stuff about themselves and finish with questions they have for their pal.
Personal Narratives
The pen pals in the story are writing about things that happen in their every day lives. This is a great opportunity to remind the students that things happen to them, too! It doesn't have to be grand or elaborate in order to write about it.
Text Set – Unlikely Friendships
Dear Dragon reminded me of another book we had picked up at the library lately – Earth to Clunk by Pam Smallcomb. In this book, the pen pals are a boy and an alien, and they send each other gifts (including moldy lasagna and a big sister!). The boy is reluctant at the beginning but realizes that they have actually become friends.
Other unlikely friendships:
Different Perspectives – Social Studies
I get excited when we find a book we can use to introduce and discuss a social studies concept that is not an overtly "social studies" book. In Dear Dragon, the two pen pals are very clearly different (different species even!). Throughout the book, you can tell from the pictures that their backgrounds and culture influence the way they see things.
For example, Blaise says his father has won the local fire-breathing contest twice. George interprets that from his perspective and you see Blaise's perspective as well.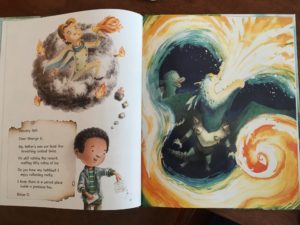 George says he's about to go trick-or-treating dressed up as a knight. Blaise has a worried look on his face because of his experience with knights.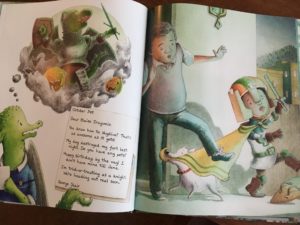 Use this as a springboard into a deeper discussion about differences between people around the world. It might even be useful as an introduction to a discussion of conflict. There is definitely the potential for conflict between George and Blaise when they meet at the end. But they choose to act on the friendship that has been established through their correspondence instead of focusing on the differences or the cultural stereotypes that could drive them apart.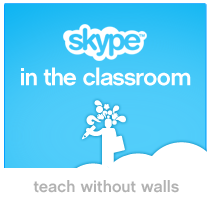 Technology Integration
Connect with other classrooms around the world to gain some perspective for your students. SkypeClassroom makes it easy to find other classes looking for a global connection (check their website or follow them on Twitter @skypeclassroom). You can even participate in a Mystery Skype, which is a "global guessing game that gets kids learning about geography, culture, and the similarities and differences of how children live all over the world." Search the website to get matched with another class, or you can put out the call on Twitter using #mysteryskype.